Panasonic KX-T7730 Phone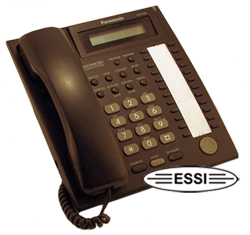 The Panasonic KX-T7730 phone is a display speakerphone with 12 programmable function keys and 12 programmable one touch speed dial keys. Available in black or with a one year warranty.
The Panasonic KX-T7730 phone also has a Hold Key for placing calls on hold, a transfer key for transferring calls to other extensions and voice mail when applicable, a speakerphone button for using the Panasonic KX-T7730 phone through the speakerphone, a program key for programming the telephone buttons, a message key for checking voice mail when applicable, an intercom key for calling other coworkers extensions, a conference button for placing conference calls, a FWD/DND button for forwarding calls and using the Do Not Disturb feature, a Flash Recall button for using service provided Cintrex features, and auto answer button for receiving intercom calls with out a ring, and auto dial store key for programming and auto dialing, and a redial key for redialing previously dialed phone numbers.
The Panasonic KX-T7730 phone is a fully functional phone for most of the Panasonic KX-T Phone Systems