Panasonic Phone Systems Colorado
Sales and installation of the Panasonic KX-TDA50G, KX-NS700, and KX-TD600 in Colorado.
Selling telephone systems is not our only goal. Providing telephone system sales and making sure our telephone systems are installed and maintained correctly is our goal.
Panasonic has about a 5% failure rate on the KX-T line of business telephone equipment. We can promise you your telephone equipment will be installed & maintained correctly by a Certified Panasonic Technician.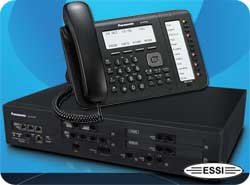 Is the latest phone system for small to large business with the needs of up to 96 phones of more.
What s unique about the Pansonic KX-NS700 it can start out as a small business phone system with 4 phones and can affordable grow with you company to more then 125 phones. You only pay for the size of system you need.
---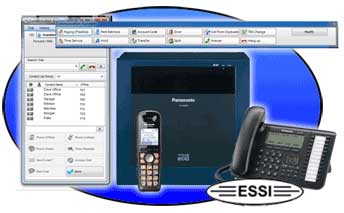 Is the phone system for large business with the needs of up to 900 phones or more.
The Panasonic KX-TDE600 starts out as a single cabinet system and as many as 3 additional cabinets can be added as time goes along.
---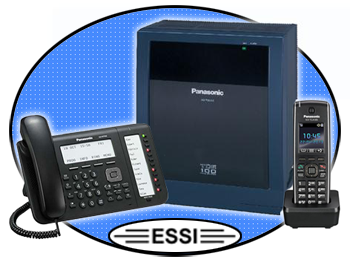 We have a phone system compatible with any hotel or motel with the needs of up to 900 room phones or more.
---
We have available IP and digital phones available for all of the latest model Panasonic Phone Systems any business can afford
---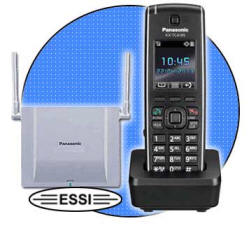 The latest model cordless phone system by Panasonic can cover most of the property with extended coverage Cell Stations at an affordable cost
---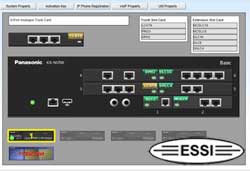 All new Panasonic Phone System pruchase from ESSI include Free Remote Phone System Programming
How it works is we log onto your local computers safely and securely with a program subscription known as Show My PC.
What is needed is: a connection to your new Panasonic Phone System via your existing computer network.
A windows base PC is required.
Selling and installing the Panasonic KX-TA624 KX-TA1232 Advanced Hybrid Telephone System and the Panasonic KX-TD308, KX-TD816 and the KX-TD1232 Super Hybrid Telephone System locally in State of Colorado for Aguilar, Alamosa, Antonito, Arboles, Arvada, Aspen, Aspen Park, Aurora, Austin, Avon, Bailey, Basalt, Bayfield, Beaver Creek, Bellvue, Bennett, Berthoud, Bethune, Beulah, Black Forest, Black Hawk, Blanca, Boulder, Breckenridge, Briggsdale, Brighton, Broomfield, Brush, Buena Vista, Buffalo Creek, Burlington, Burns, Calhan, Canon City, Carbondale, Cascade, Castle Rock, Cedaredge, Center, Cheyenne Wells, Chipita Park, Cimarron, Clark, Clifton, Coaldale, Collbran, Colorado City, Colorado Springs, Commerce City, Conejos, Conifer, Copper Mountain, Cortez, Cotopaxi, Craig, Crawford, Creede, Crested Butte, Crestone, Cripple Creek, Cuchara, Dacono, De Beque, Del Norte, Delta, Denver, Dillon, Dinosaur, Divide, Dolores, Dove Creek, Drake, Durango, Eagle, Eaton, Edgewater, Edwards, Elbert, Elizabeth, Englewood, Erie, Estes Park, Evans, Evergreen, Fairplay, Falcon, Federal Heights, Firestone, Flagler, Fleming, Florissant, Fort Carson, Fort Collins, Fort Lupton, Fort Morgan, Fountain, Franktown, Fraser, Frederick, Frisco, Gardner, Gateway, Georgetown, Gilcrest, Glen Haven, Glendale, Glenwood Springs, Golden, Granby, Grand Junction, Grand Lake, Greeley, Green Mountain Falls, Greenwood Village, Grover, Guffey, Gunnison, Gypsum, Hamilton, Haxtun, Henderson, Hesperus, Highlands Ranch, Holly Holyoke, Hot Sulphur Springs, Hotchkiss, Howard, Hudson, Hygiene, Idaho Springs, Ignacio, Indian Hills, Jefferson, Johnstown, Julesburg, Kersey, Keystone, Kiowa, Kremmling, La Junta, La Veta, Lafayette, Lake City, Lake George, Lakewood, Lamar, Laporte, Larkspur, Leadville, Limon, Littleton, Livermore, Loma, Lone Tree, Longmont, Louisville, Loveland, Lyons, Maher, Mancos, Manitou Springs, Marble, Mc Coy, Mead, Meeker, Merino, Mesa, Mesa County, Minturn, Moffat, Monarch, Monte Vista, Montrose, Monument, Morrison, Mosca, Mountain Village, Nathrop, Nederland, New Castle, Niwot, Northglenn, Norwood, Nucla, Nunn, Oak Creek, Olathe, Ophir, Orchard, Ouray, Pagosa Springs, Palisade, Palmer Lake, Paonia, Parachute, Parker, Penrose, Peyton, Pine, Pinecliffe, Pitkin, Platteville, Poncha Springs, Pueblo, Pueblo West, Purgatory, Rand, Rangely, Red Cliff, Red Feather Lakes, Redstone, Ridgway, Rifle, Rocky Ford, Rollinsville, Rye, Saint Mary's Glacier, Salida, Sedalia, Shawnee, Sheridan, Silt, Silverthorne, Silverton, Slater, Snowmass, Snowmass Village, Somerset, South Fork, Steamboat Springs, Sterling, Stoneham, Superior, Tabernash, Texas Creek, Thornton, Trinidad, Twin Lakes, Vail,