Panasonic KX-TA624 Advanced
Hybrid Telephone System
Installation CDROM Included
Limited Quantity Available

The KX-TA624-4 is no longer available all KX-TA624-5's include a
Caller ID card to accommodate 3 CO/Trunk lines
The advanced Hybrid Design of the Pansonic KX-TA624 offers you the ability to connect both Panasonic 7700 Series Proprietary Phones and Single Line Devices with no additional equipment or expense.
Key System Benefits
Expandable from 3 to 6 CO lines
Handles 8 to 24 extensions
Caller ID Compatibility
Voice Processor Integration
Uses the KX-T7735 12-line speakerphone/telephone, an analog/digital model featuring a backlit LCD display that is designed for integration with the KX-TA624-2 Hybrid Telephone System.
Also uses Panasonic 7700 series proprietary phones, the KX-T7885 12-line proprietary cordless phone, and single line telephones.
Residential Applications
The Advanced Hybrid System 3 line capability permits you to separate personal calls, business calls and faxes—yet be able to answer any call from any room with a 7000 series phone.
Answer the door by answering the phone. With optional door phone/opener cards there's no need to stop what you're doing to let guests in.
The KX-TA624-2 can even be configured to function as a baby monitor, allowing you to monitor your child's room while keeping your mind on business or chores.
The KX-T7885 900 MHz wireless phone handles 12 lines so you can take personal calls or business calls while taking a walk in the back yard.
Family members will feel like they have their own phone line and personal answering machine, even when they don't. The system's DISA option makes it possible.
With Night Mode, the system can be programmed to prevent the phone from ringing in babies' and children's rooms.
Business Applications
The Advanced Hybrid system's capabilities will streamline communications in and out of the office and out.
At the Office At the Office
Caller ID Compatibility will display a caller's name and number on a KX- 7000 series display phone. It's the perfect tool for salesmen and executives.
The DISA option eliminates the need for a separate fax line. It detects a fax's CNG tone and automatically switches the call to your fax machine.
The same DISA option also allows outside callers to connect directly to employees by pushing a button. It even answers the phone with a choice of two 30-second messages.
Outside the Office
The Panasonic Advanced Hybrid System can cut the cost of long distance calls made from cell phones, pay phones, and any other phone that's outside the office. The system's DISA option allows you to use your office lines, instead of using an outside phone to call long distance. This way you can make a local call to your office, then access an outside line from the office where rates may be more economical.
Seamless integration with the Panasonic Voice Processing Systems allows you to do more than retrieve messages while away from your desk. It also has sophisticated auto attendant functions, interview service and bulletin boards.
When you leave your desk to go to the warehouse, the sales floor, or another department take the KX-T7885 900 MHz wireless proprietary phone. It's a 12-line proprietary phone that gives you access to the Advanced Hybrid System's features. It transmits over 900MHz so its reception is crisp and clear.
Panasonic KX-TA1232 Advanced
Hybrid Telephone System
Installation CDROM Included
Available Refurbished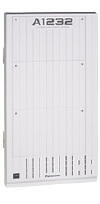 On Sale Now! The KX-TA1232 is initially configured for 8 central office lines and 16 stations. It can expand up to 12 central office lines and 32 stations with the addition of plug-in card models KX-TA123260 and KX-TA123270.

You have a thriving home business, two kids who love to talk on the phone, three telephone lines; two computers, two answering machines and a fax machine. Needless to say, the lines of communication in your home are quite complex.

Enter a Panasonic Advanced Hybrid System. Expressly designed to streamline home communications, an Advanced Hybrid System organizes your phone lines into a cohesive system and makes a host of advanced features available to each extension in your home.

With an Advanced Hybrid System all of your residential, home office and fax lines can be accessed from any system phone jack. You can assign specific lines to each phone, make room-to-room intercom calls, forward your calls to an outside location, monitor a room, page all system extensions and more.

Direct Inward System Access (DISA) with Outgoing Message & Fax Detection: If several family members share one telephone line, an optional DISA OGM/FAX Detection Card is a wise choice because it enables outside callers to reach their intended party directly. The caller will hear a message instructing them to dial a single-digit code for the desired party. The caller is then routed to that person's extension automatically. With this option, each family member can field their own calls and have their own answering machines, even though they share the same line!

A DISA card also enables you to call into the system from outside your home and utilize one of the system's lines to make calls. This feature can be helpful when you need to make calls from a client's office or are using a cellular phone.

By adding an optional Panasonic KX-TVS Series Voice Processing System, you can enjoy automated attendant service, individual voice-mail boxes and more—without expensive software or hardware upgrades. With all of these choices, it's easy to custom-design a system that's just right for you.
| | |
| --- | --- |
| | Room-to-Room Intercom & Paging |
| | Name & Number Call Waiting Caller ID—System display phones can show the name and number of an incoming caller, even if you''re on another call. The system will log up to 20 unanswered calls per extension and up to 300 calls system-wide, making it easy for you to return missed calls. |
| | Off-Premises Call Forwarding—Simply program the system to forward your calls to an outside telephone number or to your cellular phone and you can answer your calls wherever you go. |
| | Optional Door Intercom/Opener |
| | Optional Cordless Phone & Voice Mail Integration |
| | Flexible Line Buttons—You can use the central office (CO) line buttons on each proprietary telephone to access a CO line or you can program them for one-touch operation of system features like intercom calling, speed dialing or paging. |
| | Single-Line Device Integration—Allows you to connect to many types of single-line telephone devices such as answering machines, cordless phones, fax machines and computer modems, without the need for additional cards or modules. |
| | 8 central office lines and 16 stations |