New KXTA824 - KX-TDA50G KX-TDE100/200/600 KX-NCP500/1000 Systems
Refurbished Replacement Hardware for the KX-TD816, KX-TD1232, KX-616, & KX-TA624
---
Panasonic has the phone system for you, affordably priced to meet the needs of most any business, home application, or hotel/motel for systems as small as 3 lines X 3 phones to systems with the need of 1000 phones or more. More Information.
E System Sales, Inc. has available most any phone for all of the Panasonic KX-T systems including the KX-TA, KX-TD, KX-TDA, KX-TDE, and KX-NCP Panasonic Phone Systems. Find Your Phone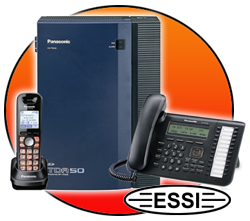 Our best selling system the Panasonic KX-TDA50G. Initial configuration is 4 phone lines in X 4 Telephone Stations with a maximum configuration of up to 12 phone lines in X up to 24 wired telephones X 24 wireless telephones.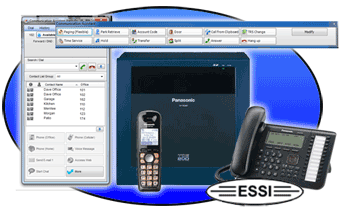 The KX-TDE is available in 3 configurations. The KX-TDE100 for mid size business with the need of more then 20 phones, TDE 200 that can support up to 200 phones or more, and the TDE600 can support in upwards of a thousand phones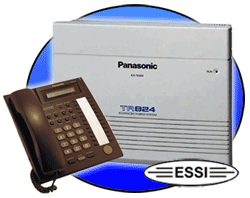 Starter system bundle with 3 black display phones $729.00
Designed to take the place of the Panasonic KX-TA624. Combines all of the features of the KX-TA624 with added trunk expansion to 8 lines in, supports 24 telephones (proprietary or analog), EZ installation with PC Programming and an installation video (great for the do it your-selfer).

2 systems more expandable than the KX-TVS line to meet the needs of growing business with out the sacrafice. The KX-TVS50 starts out at a 2-port interface X 2 hour storage with expansion to 6-port interface X 8-hours storage.
Panasonic has been manufacturing sturdy reliable phone systems for many years. With many of the early KX-T and KX-TA 308, 616, 624, and 1232's still functioning today like they are new some of these systems have been around since before caller ID. Through the years Panasonic owners have been able to count on the systems through thick and thin, h\because over time the systems have been so popular that many phones, expansion boards, and control units are still available today refurbished or on the second hand market. This allows Panasonic owners the ability to keep their systems up and running as a reliable investment.
The newest Systems available today are a lot more feature rich and even more reliable with excellent support provided by the manufacturer. Some of the new features available are Voice Over IP, of course Caller ID, what is know as Off Hook Whisper, Direct Inward Dials using Caller ID, and Voice Mail.
E System Sales, Inc is proud to be a long time Panasonic Authorized Dealer and has spent lots of time training to stay current on the newer systems as the are introduced into the market. As a result with our superior product knowledge and Panasonic's excellent support team we have been able to meet the needs of all of our happy customers all across the country.
If you need to purchase a new expansion cards or phones for an existing system or phones and expansion cards for a Discontinued System we are certain we can assist you through the process of the purchase of a new phone system for your office or home or find and purchase phones and hardware for an existing current model Panasonic or parts and pieces for a discontinued system.
The KX-TD7896 multi-line 2.4GHz cordless telephone features Digital Frequency Hopping Spread Spectrum, Caller ID Compatible, 6-Line Backlit Dial Keypad, Auto Answer Hands Free Speakerphone, and Liquid Crystal Display.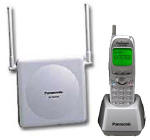 The Cordless Cell System consists of cordless phones and what are know as cell stations that are sold separately. The TDA, NCP and TDE systems have the capability of using multiple cell stations to be mounted around a large facility or home and when a cordless phone looses it's signal from one cell station it finds and connects to the nearest or next cell station expanding the roaming capabilities of the cordless phones.